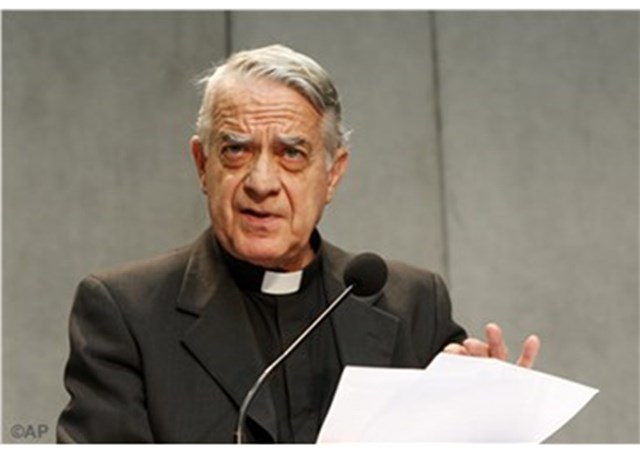 (Vatican Radio) The Fifth Meeting of the Council of Cardinals concluded today here at the Vatican. With the recent addition of the Cardinal Secretary of State, Pietro Parolin, the nine-member body is working to advise Pope Francis on important issues within the Church. 
In a midday press conference today, the Director of the Holy See Press Office, Jesuit Father Federico Lombardi, spoke about the meetings.
Listen to Philippa Hitchen's report:
Describing the meetings of the Council of Cardinals, Father Lombardi said he was struck by the "free, frank, and friendly" atmosphere that characterized the encounters. The cardinals, he said, emphasized the "liberty of expression," the sincerity with which they expressed their opinions, and the "sincere reciprocal appreciation" that produced a "climate of cordiality". Pope Francis, he said, fits naturally "into this dynamic of dialogue," joining the discussions and encouraging a freedom of expression and the development of dialogue."  
On the final day of the current round of meetings, Father Lombardi said the cardinals discussed the various departments within the Roman Curia, with special attention given to the theme of "the laity and the family." The Cardinals discussed ways in which married couples and women might be furthered involved in the work of the various Dicasteries.
Father Lombardi said no final decisions were made, but detailed proposals were offered which could be included in the overall framework of the new configuration of the Curia.
Two other important topics that were touched on were the Apostolic Nunciatures – the Pope's ambassadors to different nations – and the procedures for the appointment of Bishops: two areas that Father Lombardi described as of obvious importance in the governance of the Church.
The meetings, he said, had not arrived at specific recommendations, but instead were aimed at reaching a deeper understanding of the issues.  
Father Lombardi also noted the timetable for future meetings of the Council of Cardinals, set for September, December and February.