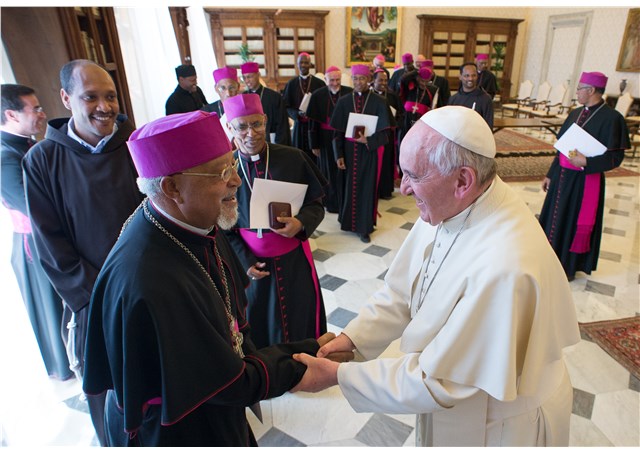 (Vatican Radio 3 July) After the tragedy of the boat that sank off Italy's Southern Island of Lampedusa, came first the appeal of the Holy Father, Pope Francis,  for a global response. Then recently, the Catholic Bishops in Eritrea issued a pastoral letter calling on Eritreans to do some soul searching. Now Italy  is reaching out to the Eritrean Government.
The Italian Deputy Minister of Foreign Affairs, Lapo Pistelli, has visited Eritrea where he met that country's President Isaias Afwerki and government officials. According to the Italian Ministry of Foreign Affairs, the visit is meant to re-start Ital–Eritrean relations.
"It's time for a new start" declared Pistelli. He went on to state that "I am here today to bear witness to our determination to revitalise our bilateral relations and try to foster Eritrea's full reinstatement as a responsible actor and key member of the international community in the stabilisation of this region".
The Italian Government will no doubt be trying to find a solution to the problem of migrants leaving Eritrea. Said Pistelli, "I came here to enable Italy and Eritrea embark on the road to cooperation in all sectors of mutual interest, given that many of the security and migration problems that affect Italy actually originate in this part of the region. To achieve that cooperation, I wanted to clarify, in person, to President Isaias here in Asmara that Italy is ready to show a new willingness to engage and to rekindle that mutual trust that has been lacking between our two countries for many, too many, decades".
In October 2013, hundreds of African migrants, mostly from Eritrea and Somalia died while many were missing after a boat carrying them sank off the Southern Italian Island of Lampedusa. The Holy Father, Pope Francis then appealed for a global effort to prevent such a tragedy from happening again. Earlier in July of that year, the Holy Father, Pope Francis had decried the "global indifference" to the plight of migrants headed for the shores of Europe.
Recently, Eritrean Catholic Bishops in their pastoral letter entitled, "Where is your brother?" marking the 23rd anniversary of that country's independence, which was celebrated on 25 May 2014, addressed themselves to the crisis of emigration in the country.  The pastoral letter signed by the four bishops, Mengsteab Tesfamariam, Eparch of Asmara; Tomas Osman, Eparch of Barentu; Kidane Yeabio, Eparch of Keren and Feqremariam Hagos, Eparch of Segeneti stated, "there is no reason to search for a country of honey if you are in one… Instead of Eritreans aiming to leave their country, those who are in the Diaspora should have returned….it is not rational to simply ask why our youth are leaving to foreign countries."
Although Italy is Eritrea's second commercial partner, trade remains negligible, given Asmara's isolation. One goal of Pistelli's visit was to encourage the Eritreans to engage in constructive dialogue with the countries of the region with a view to contributing to the stability of the Horn of Africa, establishing development policies, and signing up to a shared commitment to protect human rights and to combat terrorism and trans-national crime
The new initiative to Asmara by the Italian Government marks the first time a senior Italian government official has visited Eritrea in over a decade
Email: engafrica@vatiradio.va