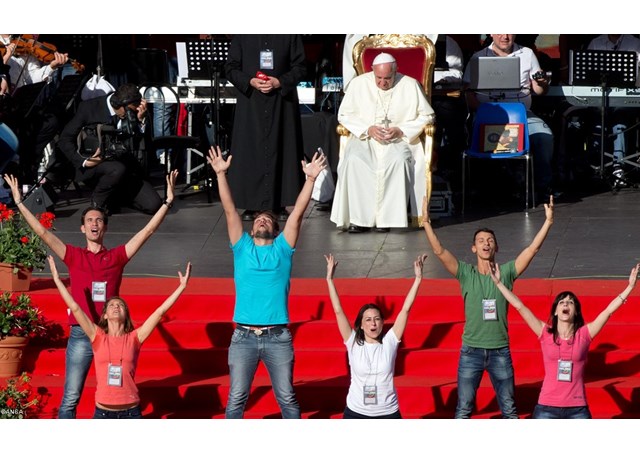 (Vatican Radio) 'A current of grace for the Church': that was how Pope Francis recently described the Charismatic Renewal Movement which began at an American university campus almost half a century ago. The Pope was meeting with some 50.000 Catholic charismatics who'd gathered in Rome's Olympic Stadium for a two day convocation which featured plenty of singing, dancing and praying in tongues. During the meeting, the Pope confessed he hadn't always felt comfortable with their style of prayer – he once said it seemed more like a samba school – but that he slowly came to understand how much good the movement can do for the Church.
Before leaving the gathering, Pope Francis also invited the crowd to St. Peter's Square for Pentecost 2017 to celebrate the 50th anniversary of their movement with him. The Catholic Charismatic Renewal traces its origins to a retreat held in 1967 at Duquesne University in Pittsburgh. It's one of many new ecclesial movements which have sprung up over the past century, attracting people of all ages and all walks of life seeking a deeper sense of belonging to the Church.
Massimo Faggioli is a church historian and theology professor at St Thomas University in Minneapolis. Later this year Liturgical Press will publish his latest book in English entitled "Sorting Out Catholicism. A Brief History  of the New Ecclesial Movements" Philippa Hitchen sat down with him to discover more about the origin of these movements and the way they are changing the face of the Church
Listen to the interview with Professor Massimo Faggioli   
Faggioli says the Church has always been invigorated by movements….but the beginning of the 20th century saw the development of a big unified movement called Catholic Action that every Catholic was supposed to be part of it….between World War II and the 1970s, he says, Catholic Action fragments and out of this body other movements develop with more specialised charisms…
Faggioli says it's hard to define them and though they usually begin informally or underground, these movements now are mostly recognised by the hierarchy. Listing some common characteristics, he says first they have a founder, in most cases a lay person, they have a rule, a common lifestyle that can be formally written or non-written, then they have an internal structure and then what defines them is a particular kind of relationship with the hierarchy…
Faggioli notes that in 1975 Pope Paul VI clearly recognises the movement of Communion and Liberation during a pilgrimage in Rome during Holy Week. Then Pope John Paul II has a policy of recognising most of them, and subsequently Pope Benedict and Pope Francis know well that the new Catholic Movements are an integral part of what being Catholic is today, especially with the focus on evangelisation…
They're growing fast but what's most interesting, Faggioli says, is their ability to rejuvenate the Catholic Church in a way that's not very typical – they begin as if the Church had recognised them already and then, after the fact, they convince their local bishops or the pope that they're an authentic embodiment and way of living the gospel – it's a huge phenomenon.
Charismatic Renewal is one of the few movements that doesn't come from Europe to America but the other way round, and it has a strong ecumenical emphasis – it tells us that the ecumenical future of the church is not one possible option but the destiny of the church ….
Growing sympathy for the movements, Faggioli concludes, clearly reflects the ministry of Pope Francis as the leader of a much more globalised Church…….in Asia some studies show 30% of Catholics belonging to these movements so Pope Francis is interpreting something that's happening far from Rome…..it presents huge challenges for the Church but it will also have a liberating effect on some of the typical debates of Western Catholicism such as clericalism and issues of power which are not popular in the Asian Church