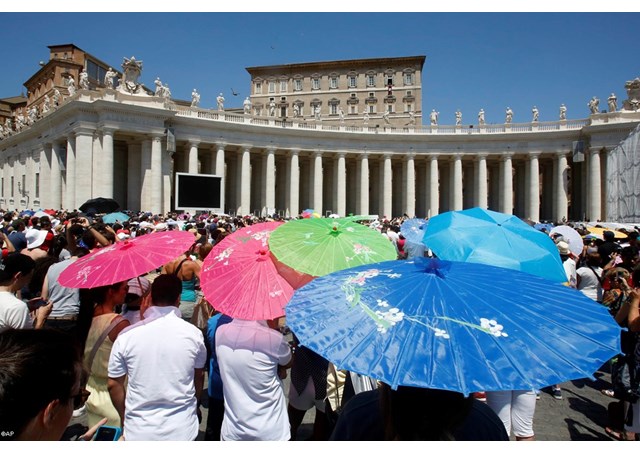 (Vatican Radio) Peter and Paul were "transformed" by the God's mercy, Pope Francis said at his weekly Angelus address on Sunday.
Listen to Christopher Wells' report: 
The Church in Rome, the Pope noted, has always celebrated a single feast for the two great Apostles of Rome. "Faith in Christ made them brothers, and martyrdom made them one," he said.
Both Saint Peter and Saint Paul were personally chosen by Christ, "and they responded to the call by offering their whole lives." Although Peter had denied Christ, and Paul had persecuted the Church, "the grace of Christ accomplished great things in them, it transformed them!" the Pope said. "Both welcomed the love of God and allowed themselves to be transformed by His mercy; they became friends and apostles of Christ." And so, Pope Francis said, "they continue to speak to the Church, and still today they show the path of salvation."
The Holy Father pointed out that God can transform us, too. Even "if we should happen to fall into the gravest sins, and into the darkest night," he said, "God is always able to transform us, as He transformed Peter and Paul, to transform our hearts and forgive us everything, thus transforming the darkness of sin into a dawn of light."
God is able to change our lives, as He changed the lives of Peter and Paul. The grace of God, Pope Francis said, "pushes us to overcome the selfishness that we have in our heart in order to follow decisively the Master who has given His life for His friends." The Lord can transform us, and is always ready to forgive us for anything, as long as "we open our hearts and ask for forgiveness."
The Solemnity of Saints Peter and Paul "evokes in us a great joy," the Pope said, "because it confronts us with the work of mercy in the hearts of these two men… who were great sinners." God, he said, "wants to fill us with this grace, as He filled Peter and Paul. The Holy Father prayed that Mary might help us to welcome the grace of God as Peter and Paul did, and "to support us in the hour of trial, in order to bear witness to Jesus and His Gospel" – and asked his hearers to pray especially for the Archbishops who a little earlier had concelebrated Mass with him in Saint Peter's.