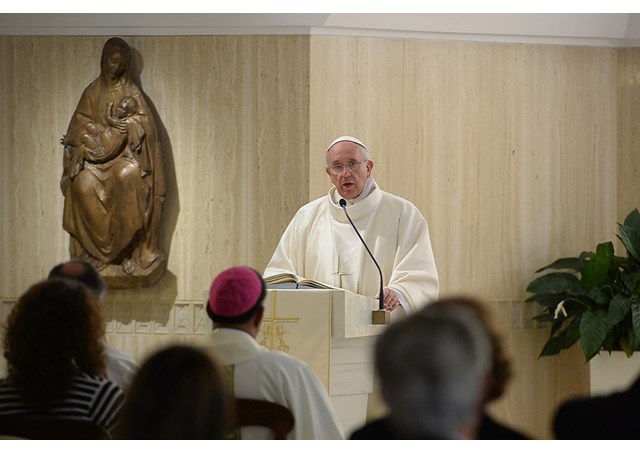 (Vatican Radio) John the Baptist as a model for Christians today: that was the focus of Pope Francis' homily at Mass in the Santa Marta chapel on Tuesday morning, the feast of the Nativity of St John the Baptist. Describing him as 'the greatest of the prophets', the Pope summed up the three key vocations of John in three words: 'prepare', 'discern' and 'diminish'.
Philippa Hitchen reports: 
Firstly Pope Francis said John was a man who prepared the way for Jesus without taking any of the glory for himself. People sought him out and followed him because he was a powerful preacher, the Pope noted, but when asked if he was the Messiah, John replied that he was just "a voice" who had come "to prepare the way of the Lord."
The second vocation of John the Baptist, Pope Francis said, was to discern, among so many good people, who was the true Messiah. When John saw Jesus passing by, he said to the disciples , "Look, the Lamb of God, who takes away the sin of the world". The disciples looked, but let Jesus go on, so John repeated to them the next day, "Look, this is God's chosen one!" The third vocation of John the Baptist, Pope Francis said, is to diminish himself so that the Lord may grow in the hearts of others.
This third stage of John's vocation is the most difficult one, the Pope noted, because Jesus had a way of behaving which was so very different from what John had imagined. Just before his death in prison, John is filled with doubt and sends his disciples to ask Jesus if he really is the chosen one. John is humiliated through his death but also in the darkness of his doubts, yet he remains a model for Christians today. Pope Francis concluded by saying that as Christians we too must prepare the way of the Lord, , we must discern the truth and we must diminish ourselves so that the Lord can grow in our hearts and in the souls of others.