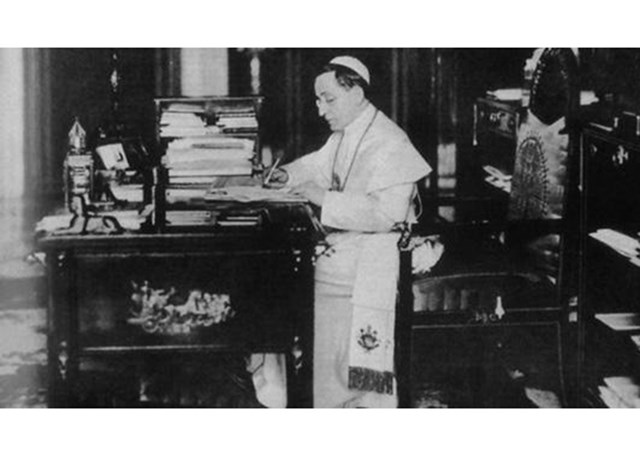 (Vatican Radio) As commemorations are underway to mark a century since the outbreak of the First World War in the summer of 1914, Veronica Scarisbrick brings you an interview focusing on the man who was elected to the See of Peter on September 3rd of that year, following the death of Pope Saint Pius X. He's Benedict XV, born Giacomo della Chiesa.
Listen:  
The interview is with historian, Professor John F. Pollard, who once wrote a book by the title of 'The Unknown Pope, Benedict XV and the Pursuit of Peace'. A landmark biography on the part of this historian who was given access to the della Chiesa family archives. The title of the book has in time, in a sense, lost the unknown pope part to it. For  when  Benedict XVI, now Pope emeritus was elected he claimed he had chosen his name as pope, not just inspired by the figure of Saint Benedict, but also by that of  Benedict XV:" I wanted to be called Benedict XVI", he said, " in order to create a spiritual bond with Benedict XV, who steered the Church through the period of turmoil caused by the First World War. He was a true and courageous prophet of peace who struggled strenuously and bravely, first to avoid the drama of war and then to limit its terrible consequences." 
In this programme you can hear this quote as well as excerpts from Benedict XV's encyclical appealing for peace dated November 1st 1914,  'Beatissimi Apostolorum '. But also Professor Pollard's explanation as to why one can affirm  Benedict XV didn't limit himself to writing encyclicals:" Benedict XV tried to stop the First World War. In his Peace note of 1917 he condemned a war of 'useless slaughter' which did not go down well...he had sent Eugenio Pacelli to prepare the  ground with the Germans.It wasn't the usual pious appeal for please stop the war, it actually set out a list of issues on which they could negotiate".