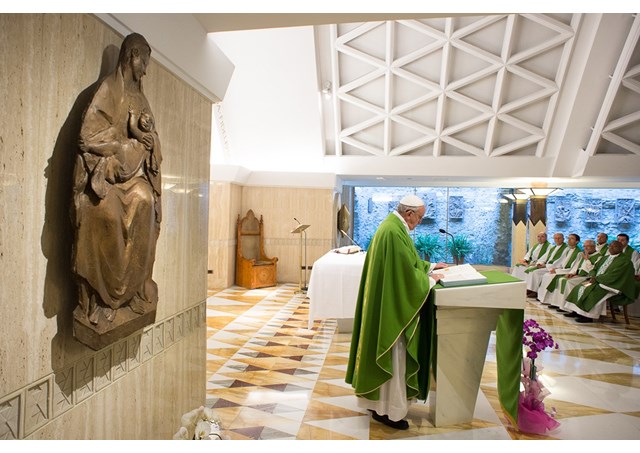 (Vatican Radio) Pope Francis on Friday warned of the allure of money, power and prestige which harden the heart and can never bring true happiness. The real treasures which can gladden our hearts, he said, are love for our neighbours and adoration of God. The Pope's words came during morning Mass at his Santa Marta residence, as Philippa Hitchen reports:
Pope Francis based his homily on the Gospel reading for the day where Jesus tells his disciples not to store up treasures for themselves on earth. The first of those earthly treasures, he said, is money which is always at risk from thieves and from the whims of the stock market. Money, he said, is necessary to provide for ourselves and our families, but he warned that those who are always seeking ways of accumulating wealth will end up losing their souls.
Another earthly treasure the Pope spoke about is prestige or the vanity of those who are always showing off, just like the hypocrites of Jesus' day who made a great show of their prayers and almsgiving. Thirdly, Pope Francis warned against the allure of power, saying, 'How many proud and powerful men and women have ended up in anonymity, in poverty and in prison!"
If you seek these treasures, Pope Francis said, your heart will be in chains, but Jesus wants our hearts to be free. And our hearts can only be free if we seek the treasures of heaven, that is love, patience, service of others and adoration of God. These treasures will lead to a free and luminous heart that will also age well – like a good wine, the Pope said. He concluded by praying for the spiritual prudence to discern and free out hearts from the slavery of earthly treasures, so that we may know the true joy and freedom of living as children of God.