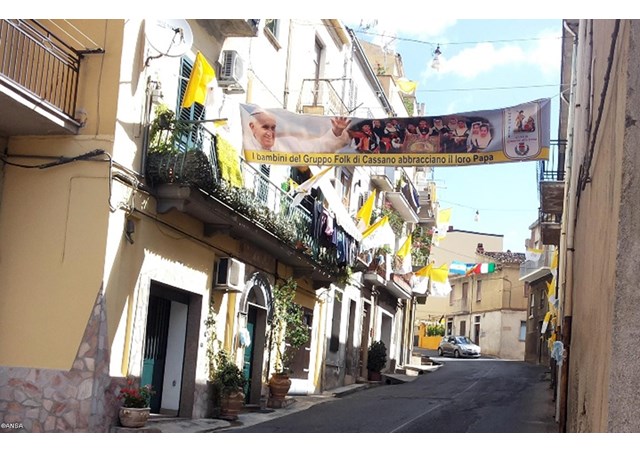 (Vatican Radio)  Pope Francis travels to Italy's southern region of Calabria Saturday for a 12 hour pastoral visit that includes six stops, two speeches and an outdoor mass.  Upon his arrival Saturday morning in Castrovilla, the Pope will meet inmates and personnel at the "Casa Circondariale" prison where he will deliver his first address of the trip. 
At 11:00 am, Pope Francis will fly by helicopter to the town of Cassano all'Jonio where he will be greeted by authorities and residents at the local stadium.  He will then pay a visit to the sick at the hospice centre "San Giuseppe Moscati." Later, at the Cathedral of Cassano all'Jonio, the Pope will greet and address diocesan priests and religious.  The Holy Father will share lunch with the poor, as well as with young residents of the drug rehabilitation community "Saman."  He will also visit the elderly at the "Casa Serena" retirement community and at the end of the day, celebrate an open-air Mass before returning by helicopter to the Vatican.
Carmen Zullo, a Canadian and vice president of the Calabrian charity, "Confraternita' Misericordia," will be among those turning out to greet Pope Francis upon his arrival Saturday in Cassano all'Jonio.  She will be accompanying a group of 12 young disabled boys and girls from the "Il Sorriso" community to see the Pope.
Listen as she tells Linda Bordoni that people across Calabria are excited about the Pope's visit….