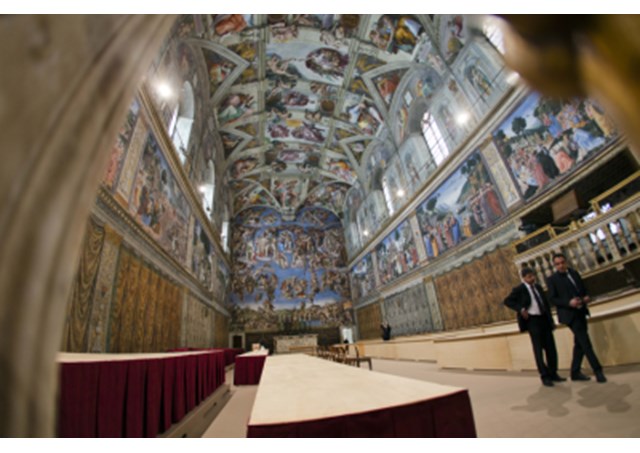 (Vatican Radio)  The Vatican Museums will be installing a new  landmark heating, ventilating,  and  air  conditioning  system  for  the  Sistine  Chapel,  specially  designed  to  address  the  challenges  of  protecting  Michelangelo's  masterpieces  against deterioration. 
The  Governate  of  the  Vatican  City  State  and Carrier  on Wednesday said  the new system  is  expected  to  be  installed  and  commissioned  by  the  third  quarter of  2014
The  new system, which replaces  a Carrier  system installed in the  early  1990s,  is designed to  have twice the efficiency and three times  the  capacity  of  the  previous  system.  The  custom -engineered  solution  uses  first-of-its kind,  energy-saving  technologies,  as  well  as  methods  to  minimize  noise  and limit air motion around the frescoes. In  addition,  the  Governate  of  the  Vatican  City  State  and  United  Technologies Corp.  (UTC)  have  entered  into  an  agreement  to  ensure  the  protection  and  safety of  the  Vatican  Museums'  artwork,  spaces  and  visitors  through  the  deployment of building technologies from UTC companies. According to the terms of the agreement, the  parties  will  work  together  on  integrated  solutions  spanning  Heating, Ventilation and Air Conditioning; elevators  and escalators; fire  detection  and  alarm,  as well as fire  suppression  and  safety; and electronic  security,  access control, video surveillance services  and related software solutions. 
Antonio Paolucci, Director of the Vatican Museums stated: "We are confident that  Carrier's HVAC system will enable us to realize our goal of ensuring  the preservation  of  Michelangelo's masterpieces in the Sistine Chapel while allowing visitors to continue  to behold the frescoes for years to come."
Rev.  Rafael  García  de  la  Serrana  Villalobos,  Director  of  the  Vatican  Technical  Services said: "The Carrier solution is the right response to our urgent need to establish  a  highly  controlled  microclimate  as  well  as  an  effective  reduction  of  pollutants.   Our  fruitful  collaboration  with  Carrier  has  brought  us  to  request  a  larger  technical  agreement with UTC and its other building solution brands."