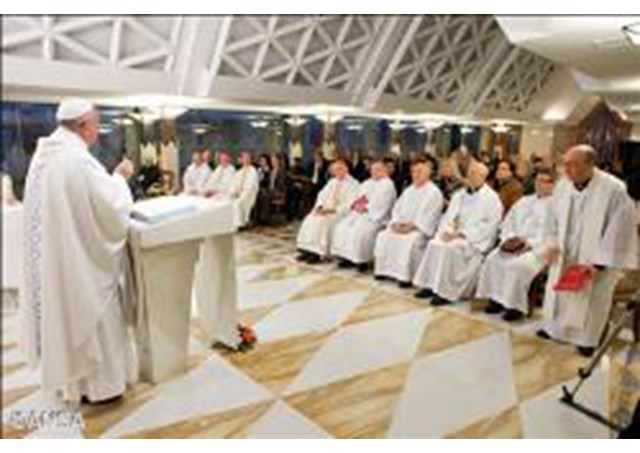 (Vatican Radio) Pope Francis on Tuesday returned to theme of corruption in the Church and in society, saying those who commit this crime must beg for God's forgiveness. Speaking during the homily at Mass in the chapel of his Santa Marta residence, the Pope said it is always the poor who pay the price for the corruption of others. Philippa Hitchen reports: 
Pope Francis based his reflections on the reading from the First Book of Kings which tells the story of the murder of Naboth through the greed and corruption of King Ahab and his wife Jezebel. When we embark on the path of corruption, the Pope said, we lose our humanity and sell ourselves, just as the prophet Elijah tells Ahab, "I have found you because you have sold yourself to do evil in the eyes of the Lord."
"Questa è la definizione: è una merce!....
This is the definition of corruption, the Pope insisted, it's a commodity that we buy and sell. Recalling yesterday's homily in which he identified three areas of corruption – in politics, in business and in the Church – he said all three hurt the poor who always pay the price for the other's gain. To all of these people, the Pope notes, God says clearly that he will bring disaster on them and their families. Corruption, he said irritates God and scandalises people because it exploits, enslaves, even kills the vulnerable, but those who commit this crime are only focused on money and power.
"Sono traditori i corrotti.....
The corrupt, the Pope said, are traitors who steal and kill, who exploit the innocent, but they do it at a distance with kid gloves on so that they do not have to get their hands dirty. These people, he said, are cursed by God, but just as Ahab tore his clothes and fasted and humbled himself before the Lord, so the corrupt must repent and make amends for what they have done. Our duty as Christians, the Pope concluded, is to ask forgiveness from God for these people we read about in the papers, to pray for their conversion of heart and for the grace that we may never become corrupt ourselves.