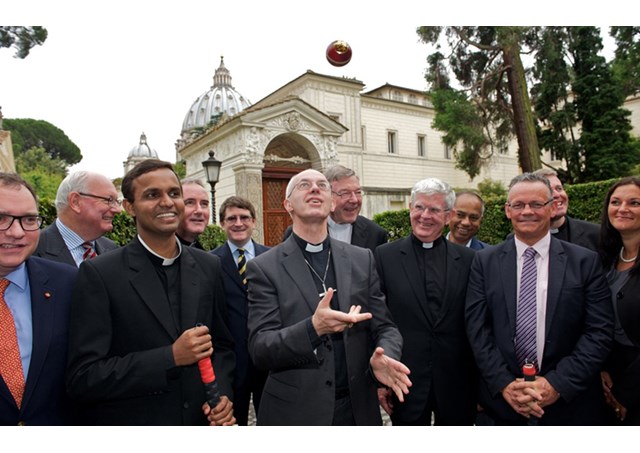 (Vatican Radio) Amongst the many theological issues and practical challenges that the Anglican Archbishop of Canterbury Justin Welby discussed during his two days of meetings in the Vatican this week, there is one subject you might not expect to find on his agenda……and that is cricket.
On Sunday morning the Anglican leader met with the recently formed St Peter's Cricket Club which has challenged a Church of England team to a match scheduled to take place in September.
Philippa Hitchen reports: 
Neither the Argentinian Pope, nor the English Archbishop are cricket players themselves – the former is more passionate about football and the latter prefers rowing, as he joked with journalists gathered in the Vatican gardens on Sunday….
"No, I love watching, but if I''m really honest I headed for the rowing……..."
Yet the Vatican's Council for Culture is very keen to encourage all kinds of sporting initiatives that promote spiritual and ethical values among as wide an audience as possible. The match in September will be raising money to support the work of the Global Freedom Network, an ecumenical and interfaith initiative to combat the scourge of slavery and human trafficking.
The majority of St Peter's team members are drawn from students at the Pontifical colleges and seminaries here in Rome, many of whom come from the Indian subcontinent where cricket is a national passion. Also included in the side selected to play against the Church of England XI is Fr Tony Currer who's in charge of Anglican-Catholic relations at the Pontifical Council for Promoting Christian Unity.
He talked to us about the ecumenical aims of this match and about his own experience of combining faith and sports…
"Cricket has always been my passion as a sport…….I had very many happy years playing for Durham City…….I was delighted when I arrived in Rome and found this cricket club forming….it kind of dovetails with my desk in the sense that our first fixture is with the Anglican Church in September…..
Sport brings friendships and what I got out of playing club cricket as a priest is that people see you in a different way…..and it's sometimes stepping out of the stereotyped images we have of one another…..on the cricket field it's a great leveler, it's a contest between the bat and ball and everyone's struggling with that together so we see one another in a different way and that can always be a helpful thing.."