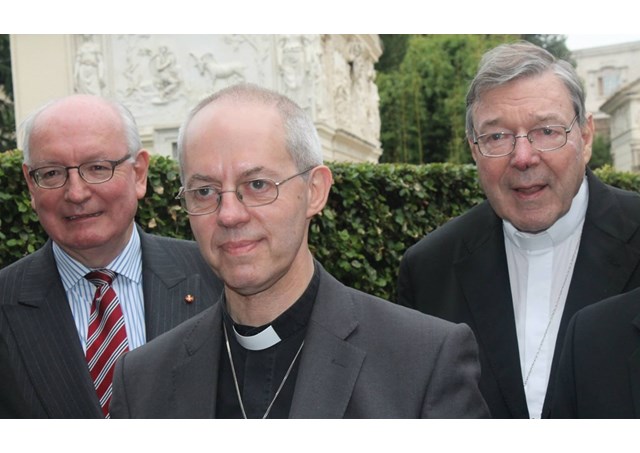 (Vatican Radio) Catholic and Anglican leaders have pledged to try and rid their churches of any links to slavery and human trafficking which they describe as one of the most "devastating and crippling problems" facing people on the planet today. The Archbishop of Canterbury Justin Welby began a two day visit to Rome on Sunday, meeting with staff and supporters of the Global Freedom Network, an ecumenical-interfaith initiative launched last March and housed within the Pontifical Academy for Sciences. Philippa Hitchen reports:
The Anglican leader joined several cardinals, who are member of the Network's governing council, in endorsing its work of awareness raising, victim support and calling on governments, businesses and churches to 'slavery proof' their own supply chains. Among those attending the encounter was Australian Cardinal George Pell, who said the Catholic Church will work hard to ensure that none of its services or supplies have hidden links to people working in slave like conditions..
"It's an important challenge, the Australian ambassador to the Vatican has been very insistent that we start to look at that and it's something that we will do, but I couldn't say at the moment with any clarity at all that we're free…."
Speaking of a visit to Bangladesh last week, Archbishop Welby said the distinguishing feature of the Global Freedom Network must be its theological vision grounded in the dignity of each individual. He said the initiative represents a moment of hope and reconciliation for the Anglican and Catholic churches, based "not on looking at each other but looking at the needs of the poor." As well as working towards a common commitment by Christian and other faith leaders on this issue, he said it's vital that the churches begin by putting their own houses in order.
"What we saw in Dhaka and …. what I knew already from many years of involvement in finance and ethical investment in the City of London, where I head the ethical oversight committee of a major fund manager, is that the complexity the hiddenness of supply chains is immense …..and it needs a very deliberate and conscious process of examining what you're doing… like his Eminence, we're beginning this and I've emailed today already to the people responsible for this saying we need to have a serious look at this and not find that we're contributing to the problem we're trying to stop."
Archbishop Justin Welby will be meeting with Pope Francis in the Vatican on Monday.