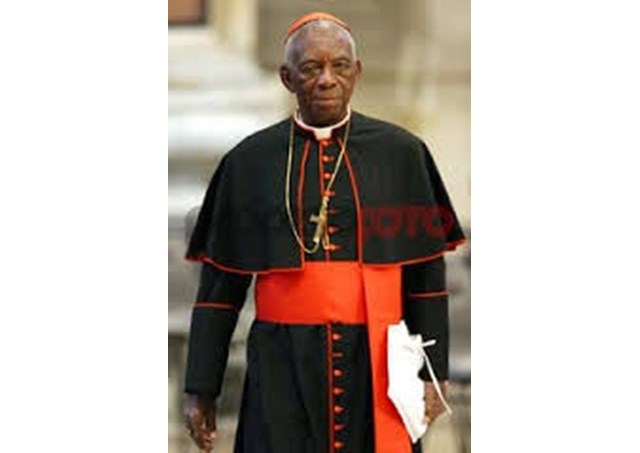 (Vatican Radio) Cardinal Bernard Agré, Archbishop emeritus of Abidjan has died on Monday, 9th June, in a Paris hospital where he was receiving treatment.
Following the death of Cardinal Agré, the College of Cardinals is currently composed of 213 Cardinals, of whom 118  are eligible to vote in the Conclave; 95 of them not eligible to vote because they are over 80 years of age.
Please find below a brief biography of the late Cardinal Bernard Agré:
Cardinal Bernard Agré, Archbishop emeritus of Abidjan, Côte d'Ivoire, was born on 2 March 1926 in Monga, Côte d'Ivoire. He was ordained on 20 July 1953 and held a doctorate in canon law from the Pontifical Urbanian University, Rome.
He was a headmaster in Dabou, rector of the pre-seminary in Bingerville, parish priest of Notre Dame Parish in Treichville and Vicar General of Abidjan. On 8 June 1968 he was appointed Bishop of Man and received episcopal ordination on 3 October. On 6 March 1992 he was named Bishop of the new Diocese of Yamoussoukro and on 19 December 1994 was promoted to Archbishop of Abidjan.
From 1985 until 1991, he was President of the Episcopal Conferences of Francophone West Africa (CERAO) and, from 1972 until 1996, Chairman of the Pan-African Episcopal Committee for Social Communications (CEPACS).
He was also a member of the Committee of the Great Jubilee of the Year 2000.
President Delegate for the 10th Ordinary General Assembly of the Synod of Bishops (October 2001).
Archbishop emeritus of Abidjan, 2 May 2006.
Created and proclaimed Cardinal by John Paul II in the consistory of 21 February 2001, of the Title of S. Giovanni Crisostomo a Monte Sacro Alto (St. John Chrysostom in Monte Sacro Alto).