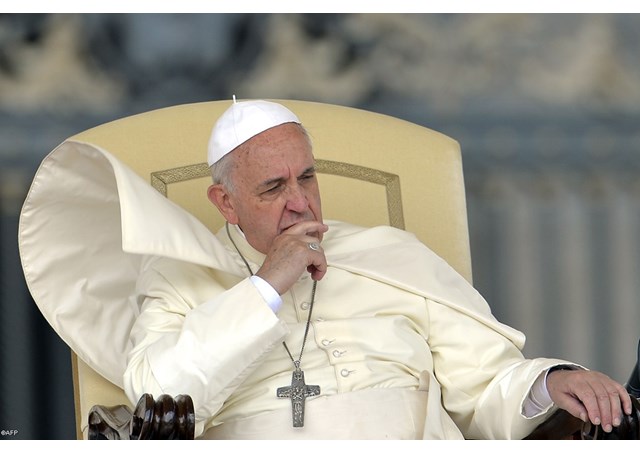 (Vatican Radio) Pope Francis during his weekly General Audience on Wednesday spoke about his recent visit to the Holy Land. He said his journey was meant to renew a commitment to work for Christian unity but also to encourage efforts to work for peace and reconciliation in the Middle East.
Below are the Pope's words read out at the General Audience.
Dear Brothers and Sisters: My apostolic journey to the Holy Land in these days was a great grace for me and for the whole Church.  It commemorated the fiftieth anniversary of the meeting of Pope Paul VI and Ecumenical Patriarch Athenagoras, which marked a milestone along the path to Christian unity.  Patriarch Bartholomaios and I prayed together as brothers before the tomb of the Risen Lord and we renewed our commitment to work for full communion between the Churches.  My journey was also meant to encourage the efforts of those who work for peace in the Middle East and those who care for the many people, especially refugees and children, suffering the effects of war and violence.  As you know, I have invited the Presidents of Israel and Palestine to join me in praying for peace.  Finally, I wished to confirm in faith the Christian communities in the Holy Land, to acknowledge their difficulties and to support their charitable and educational works.  May the prayer and solidarity of the entire Church sustain their witness to the Gospel message of hope and reconciliation, and help to bring God's gift of peace to those blessed lands.
I am pleased to greet the members of the International Catholic Migration Commission meeting in plenary session, with prayerful good wishes for their united action in providing relief to so many of our brothers and sisters in need.  I also greet the Catholic Police Guild of England and Wales on the centenary of its foundation, and the members of the Global Legislators Organization.  Upon all the English-speaking pilgrims taking part in today's Audience, including those from England, Sweden, Israel, the Philippines, Indonesia, Australia, South Africa, Canada and the United States, I invoke the joy and peace of the Risen Lord.  God bless you!