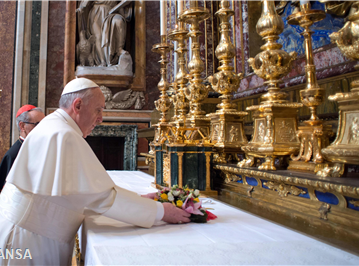 (Vatican Radio) Pope Francis made a private visit to the Rome Basilica of Saint Mary Major on Tuesday morning to thank Our lady for the positive outcome of his apostolic visit to the Holy Land.
The Pope arrived back in the Vatican on Monday evening after an intense three-day journey that took him to Jordan, Palestine and Israel.
Cardinal Abril y Castello, Archpriest of the Basilica, said that Pope Francis arrived at Saint Mary Major at about 11am with the offering of a bouquet of flowers for Our Lady to thank her for the good outcome of his journey and to entrust to Her the fruits of his pilgrimage. After gathering in prayer before the image of the Madonna Salus Populi Romani, the Pope had words of greeting for the faithful present in the Basilica before leaving at about 11.30am.
Pope Francis made an unannounced visit to the same Basilica on Friday morning before departing for his Holy Land journey. He had done the same thing before his journey to Brazil in July 2013.
Today's visit to the Basilica of Saint Mary Major is his ninth since the beginning of his Pontificate.