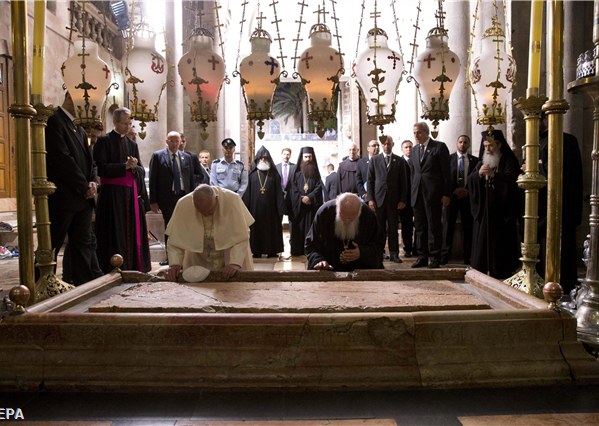 (Vatican Radio) Cardinal Kurt Koch the President of the Pontifical Council for Promoting Christian Unity has described the encounter on Sunday, between Pope Francis and the Ecumenical Patriarch, Bartholomew I, "a commemoration of fifty years of dialogue, of love, and a dialogue of truth and a new confirmation to go the way to full communion and that will mean to Eucharistic communion" Both the Pope and the Patriarch held private talks and signed a Common Declaration in which they pledged to continue on the road towards Christian Unity.
Cardinal Koch said this encounter fifty years on from that first historic meeting between Pope Paul VI and Patriarch Athenagoras signifies a new path for the future to "deepen the dialogue of love and the dialogue of truth."
Asked about the next step in the process towards unity the Cardinal said "We must continue our dialogue, the theological dialogue of truth (which) is not easy in this time, " and he goes on to say there is the next plenary in September which he hopes will help resolve exists problems.
Listen to Jesuit Fr Bernt Hagenkord's interview with Cardinal Kurt Koch.