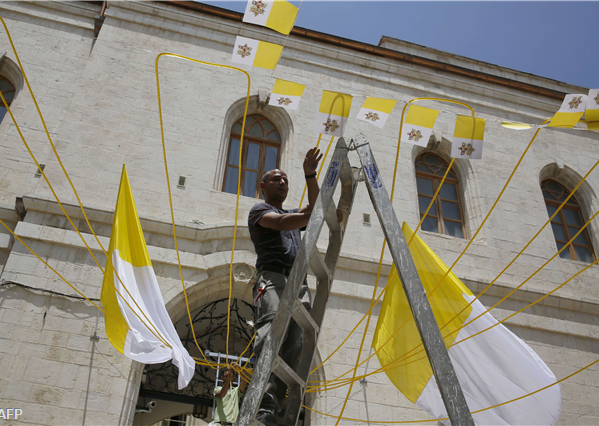 (Vatican Radio) Pope Francis leaves Saturday morning for his three-day apostolic pilgrimage to the Holy Land, which marks the 50th anniversary of Pope Paul VI's visit to the region.  He will visit Jordan, the State of Palestine, and Israel.  Vatican Radio's Philippa Hitchen spoke to Charles Collins on Friday evening from Jerusalem about the anticipation for the trip.
Listen to Charles Collins speaking to Philippa Hitchen:
READ Philippa Hitchen's report:
There are a few people involved in the organisation of Pope Francis' visit to the Holy Land who are old enough to remember Pope Paul VI's visit half a century ago. Philippa Hitchen has been talking to one of them….
The most vivid memories I've heard so far are those of Bishop William Shomali, currently serving as auxiliary of the Latin Patriarch of Jerusalem. In the Patriarchate where workers were rushing around polishing floors and putting a fresh coat of paint on the walls, Fr William talked about that freezing cold January morning of Epiphany 1964, when, with other young seminarians, he stood for several hours waiting for the Pope to arrive in front of the Basilica of the Nativity in Bethlehem.
As he watching the smiling, white clad figure finally walking towards him, Fr William said he felt for a second as though he was seeing an angel returning to the site of Jesus' birth. It was just a brief glimpse of the pope as he blessed the cheering crowds before disappearing inside the basilica, but he said it left a very strong impression in his heart about the possibility of positive changes in the Holy Land.
Commenting on the meeting between Pope Paul and Patriarch Athenagoras , Fr William also said he was deeply impressed by the humility of the two men - if unity depended on them alone, he mused, it might already have been achieved. But there's no doubt there have been dramatic changes in the lives of ordinary people here, for example for Catholic men and women who marry Orthodox partners. Fr William recalls that his own father wouldn't speak to two of his nieces because they had married two Orthodox men, but as a boy he simply couldn't understand what such hatred and mistrust was all about. Now instead of condemning such unions, Orthodox and Catholic families celebrate together.
Fr William also recalled how Patriarch Athenagoras wrote to Pope Paul not long after their meeting to say how much he wished to celebrate the Eucharist together with him before he died. Paul VI sent the Patriarch a chalice in return to show that he had exactly the same desire in his heart. Their wish hasn't come true yet, but their meeting did lead to the lifting of mutual excommunication,  a regular dialogue and exchange of top level delegations between Rome and Istanbul to mark the Orthodox feast of St Andrew and the feast of Saints Peter and Paul in Rome.
The lasting legacy of that encounter 50 years ago, Fr Shomali concluded is a growing trust and deepening friendship so that Catholics and Orthodox can work together to tackle whatever problems may arise. Like the rest of the Catholic community here, he's full of hope for the meeting of the current successors of St Peter and St Andrew, who're coming together at the Basilica of the Holy Sepulchre on Sunday to recommit themselves to that search for full, visible, Eucharistic unity of the Church.