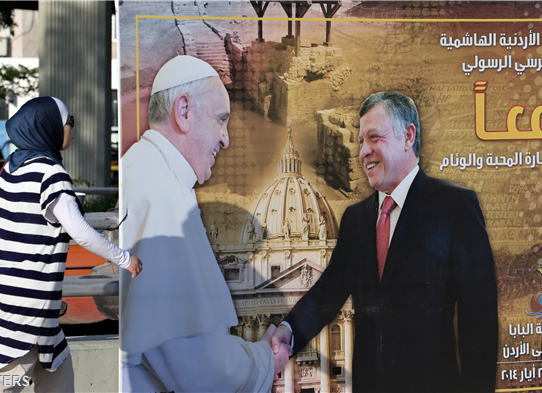 (Vatican Radio)  Pope Francis' visit Saturday to Jordan, the first stop on his three day pilgrimage to the Holy Land, comes at one of the most challenging and difficult moments of our lifetime: that's according to the President of one leading U.S. university who says he's hopeful the pontiff's visit to the region will encourage peace there.
President of Jesuit-run Georgetown University Dr. John DeGioia will be in Amman for the Pope's arrival.  Jordan's King Abdullah has long been "exceptionally" supportive of interfaith dialogue, says DeGioia, whose university runs a renowned center for interreligious dialogue. 
King Abdullah has been "a global leader in fostering interreligious dialogue and Jordan as a country has provided a number of leaders who have ensured the significance of interreligious dialogue in our public discourse," DeGioia explains.
DeGioia tells Vatican Radio's Philippa Hitchen that he expects Pope Francis' trip to Jordan to be "an extraordinary visit and a great opening to his visit to the Holy Land."  Pope Francis will be the fourth pontiff to visit the Hashemite Kingdom.
Listen to Philippa Hitchen's interview with Dr. John DeGioia:  
"I think just by virtue of his presence and what he has come to represent in now just over a year of his leadership - that so early in his tenure that he would be moving into the Holy Land for this visit - I think speaks volumes to the importance he has for convergence of urgent issues that are in play in the region."
These last weeks have not been promising: the break-down of the framework agreement that (US) Secretary Kerry had been working on with both the Israeli leadership and the Palestinian leadership, the continued crisis in Syria.  While in Jordan I will have the opportunity to visit a couple of the refugee camps where Jesuit Refugee Services is providing support."
Pope Francis will also be meeting a group of Syrian and Iraqi refugees during his visit to Jordan. 
"This is the context in which the Holy Father is going into the region," says DeGioia. "It is as challenging and difficult a moment as in any time in our lifetimes.  And I think his presence, hopefully, will begin to help build a new context."