Pope appeals for Balkan Region and for China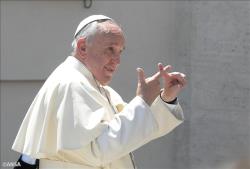 May 21, 2014: Pope Francis made a prayer appeal again for the people of Bosnia and Herzegovina and Serbia affected by severe floods. The appeal came at the end of Wednesday's general audience in St. Peter's Square. Addressing some 50 thousand people attending his audience, the Pope said "my thoughts go out again to the people of Bosnia and Herzegovina and Serbia hit hard by severe floods that have claimed numerous lives, left thousands displaced and caused extensive damage. Unfortunately, he added, the situation has worsened, so I invite you to join me in prayer for the victims and for all those who are suffering from the severe disaster. He called for solidarity from everyone and urged the international community to offer concrete support.
Thousands of landslides have been recorded in the past few days in Bosnia, which along with neighbouring Serbia is struggling with the worst flooding in south-eastern Europe in more than a century. Numerous people have died in five days of flooding caused by unprecedented torrential rain. Entire towns and villages are under water and tens of thousands have been forced to flee their homes. The Pope on Wednesday also reminded the world about the tragedy in the Balkans with a post on his twitter account@ at Pontifex.
At the end of Wednesday's general audience, Pope Francis also made an appeal for China. Recalling that Saturday, May 24 is the feast of the Blessed Virgin Mary - Help of Christians, who is venerated with great devotion at the Shrine of Sheshan in Shanghai, the Holy Father asked all the faithful to pray that under the protection of Our Mother - Help of Christians, Catholics in China may continue to believe, to hope, to love and to be in all circumstances, a leaven of harmonious existence among their fellow citizens.