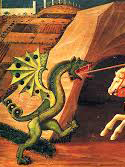 (Vatican Radio) Saints and miracles in today's Church are connected through the canonization process.  Usually, for a person to be beatified, and then canonized, a miracle by their intercession must be verified.
But this saint-miracle connection is older than the process of canonization, and the stories of saints from the earliest times are often accompanied by tales of the miraculous. This was especially true in the Medieval world, where the art of writing about saints, called hagiography, often centred on the wondrous and incredible.
At Cambridge University, a project by several graduate students in the Department of Anglo-Saxon, Norse and Celtic to categorize and chart the thousands of miracle stories recorded about saints of the British Isles between 500 and 1300 was recently announced. 
"The layered stories of saints' acts served multiple purposes in medieval communities, from regulating orthodox religious behaviour to explaining the otherwise unexplainable in the natural world," said Julianne Pigott, the senior student-leader of the project "Mapping Miracles".
Listen to the interview with Julianne Pigott:
As a digital database, Mapping Miracles will be a digital database, which will be searchable by different categories, such as saint's name, type of miracle, and other literary motifs. 
Pigott told Vatican Radio the first subject will be conversion stories, and she said she hopes the database, although meant for scholars, will find wider use.
"I would hope…that people would find this an interesting way to look at the Medieval and see how it relates to the modern," she said.