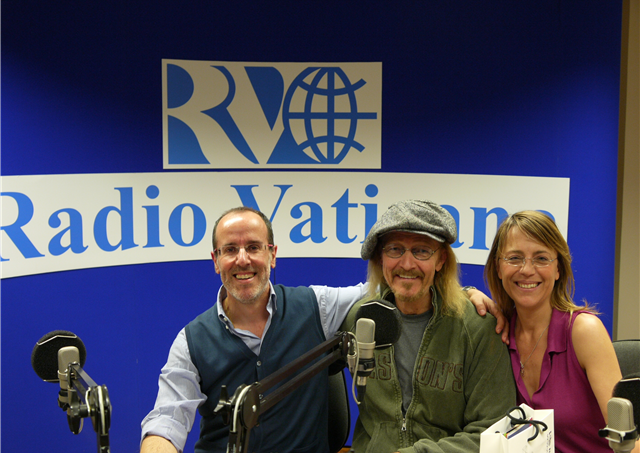 (Vatican Radio) It was an exciting moment for all of us here at Vatican Radio when the actor and singer whom we all know as "Jesus Christ Superstar" came to visit.
Ted Neeley, the "quintessential" screen Jesus of the 1973 film directed by Norman Jewison, is currently in Rome to perform, yet again, as Jesus of Nazareth in the musical by Tim Rice and Andrew Lloyd Webber, and to launch his new release entitled "Rock Opera"…
The album includes many great favorites by Ted including the wonderful duet "Up Where We Belong" with Yvonne Elliman – the very same Yvonne Elliman who played the role of Mary Magdalene in the film with Ted 40 years ago.
I was privileged to get to do the interview together with my Italian colleague Fabio Colagrande…
Listen to the interview...  

Ted talks of his feelings of joy and of how he feels honored to be here in Rome. He also speaks of  how he has changed and "grown" spiritually in all these years that he has been playing "Jesus", first in the Musical on Broadway, then in the film, and then countless times in revivals of the Musical across the world. 
"I thought I was a good Christian prior to this, but the knowledge I have obtained as a result of this experience (…) has a deep effect on me – I learn something new every time I get the chance to play this role".
Ted says that as a young singer and actor back in the 1970s he auditioned for the role of Judas because he was in awe of the "Jesus" figure and "didn't want to take a chance on imposing myself on the essence of Christ". So he says he auditioned for Judas, but when the director (who had directed him for three years in the musical "Hair") heard him sing the opening song, 'Heaven on their minds', "he ran up on the stage and threw his arms around me and I thought: 'I got the part of Judas', but he hugged me and said 'that was wonderful, I would like you to come back tomorrow and take the role of Jesus'!
Ted speaks of how meaningful it is for him to get to meet people who went to see the show or the film because "we have a spiritual connection" thanks to having played that role.
Ted Neeley explains that before the film was released, the director, Norman Jewison asked "the highest authority" to view it and express his opinion: "Because of so much protest in America when we were doing the show live, prior to making the film, Mr Jewison was concerned about whether or not the film would be accepted around the world. So he requested an audience with Pope Paul VI to see the film. The two of them sat down together and watched the film, and the Pope said: 'this is a good film, I think this film will open the eyes to people around the world'. He said that he felt that the music was so inviting and so spiritual that it would spread the essence of Christ worldwide…  so we got his blessing to release the film. "So thank God for that, and thank Pope Paul VI for that!"