Pope appeals for prayers for victims of disasters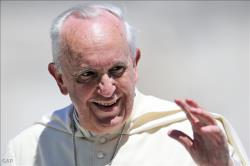 May 14, 2014: : "The dignity of the human person and the rights to health must always be placed before all other interests", Pope said at the end of Wednesday's general audience in St. Peter's Square, making prayer appeals for those who lost their lives in recent disasters. First he called on everyone to pray for the miners who died on Tuesday in the mines in Soma, Turkey and for those who are still trapped in the tunnels. It is estimated that more than 200 miners were killed after an overnight explosion, and hundreds of others are trapped underground. Then greeting in the audience a delegation from an area of Italy's Campania region, the so-called "land of fires and poisons", where years of dumping of toxic waste by the "ecomafia" has caused an environmental disaster, and ARPAC - the Campania environmental agency has found more than 2,000 contaminated sites, Pope Francis expressed his spiritual closeness to the inhabitants of the region and urged that the dignity of the human be always placed before any other interest.
The Pope also invited everyone to pray for those who drowned in the Mediterranean Sea, as they sought their way in boats towards southern Italy for a better life. Stating that human rights must be a priority, he urged all heads of states to prevent these shameful massacres.