Lampedusa: Enough! No more deaths at sea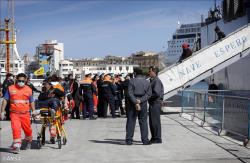 May 13, 2014: The bodies of 40 people have been recovered and two hundred others have been pulled to safety by Italian coast guards from the seas around the tiny Italian island of Lampedusa after the latest tragedy linked to illegal migration. Those who have been pulled to safety by Italian coast guards include women and children.

Lampedusa is one of the main points of entry into the European Union and just 113 km from Tunisia. It is often the first landing place for desperate people fleeing war or poverty to reach a better life. The summer season brings with it a massive increase in the number of unsafe boats trying to reach its shores, and often these perilous journeys end in tragedy.

Lampedusa was also the very first place Pope Francis chose to visit after his election to the Papacy. During that visit, the Pope celebrated mass to commemorate thousands of migrants who have died crossing the sea from North Africa. He also thanked the people of Lampedusa for taking migrants in and setting an example of solidarity to a selfish society sliding into "the globalization of indifference". "We have become used to other people's suffering, it doesn't concern us, it doesn't interest us, it's none of our business!" he said. The Pope also condemned the traffickers who profit from the migrants desperation and asked pardon for those, whose decisions at a global level have created the conditions which have led us to this drama.

Fr. Giovanni La Manna SJ president of the Centro Astalli which helps migrants commented on the latest avoidable tragedy: "Enough! No more deaths at sea! When will we have the courage and dignity to save the lives of people who are fleeing war and dictatorships?! It is Europe's duty to guarantee access to seek asylum, it is a human right. Today its impossible for migrants to reach Europe without falling into the hands of human traffickers and risk their lives on these boats. It is our duty to save human lives", he said.