Pope: We are no one to close the door on the Holy Spirit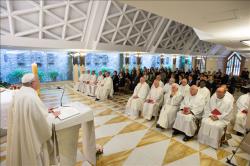 May 12, 2014 - The Holy Spirit blows where He wishes, but who are we to close the door on Him? Pope Francis asked this question at Mass, Monday morning at the Casa Santa Marta residence in the Vatican. He was reflecting on the Acts of the Apostles' episode where Peter converts one of the first groups of pagans. The Pope said it is Spirit who makes the Church go ahead beyond every limit, but the temptation of a believer to bar the freedom of the Spirit has always been there since the early Christian community of St. Peter.

Explaining the scripture passage, the Pope said, a pagan community accepts the Gospel and Peter is eyewitness to the Holy Spirit descending on them, but earlier he hesitated in coming in contact with what he considered 'impure', for which he incurred harsh criticism from the Christians of Jerusalem. They were scandalized that their leader had eaten with the 'un-circumcised' and even baptized them. But the Spirit blows where he wills, the Pope said explaining, "if tomorrow an expedition of aliens from Mars arrives,… and one of the green one with long nose and big ears, like what children draw, comes and says, 'I want Baptism! What would happen?". The Holy Father pointed out that Peter understood his mistake in a vision that enlightened him regarding a fundamental truth, that what God has purified, not one can call 'profane'. Peter clears up all the doubts of his critics saying, "If then God gave them the same gift he gave to us for believing in the Lord Jesus, who was I to hinder God?"

The Pope said, "When the Lord points us the way, who are we to say, 'No Lord, it's not prudent. Let's do it this way?" Peter's question, "who was I to hinder God?" is a beautiful question for bishops, for priests and also Christians, the Pope said. The Holy Spirit makes unthinkable choices, updating the Church and making it go ahead. Who are we to close the door, the Pope said, adding the Church doorkeeper's job has been always there since the early Christian times, who opened the door to receive and allow people in. But it was not the job of closing the door. The Holy Father thus urged Christians to pray for the grace of docility to the Holy Spirit, who speaks to us in the heart, in our life situations, in the life of the Church and in Christian communities.