Pope urges faithful to bother pastors for milk of grace, doctrine, guidance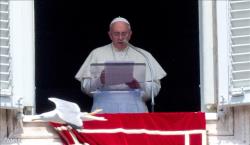 "Bother your pastors so that they give you the milk of grace, doctrine and guidance." This was the exhortation of Pope Francis to the more than 50 thousand pilgrims gathered in Rome's St. Peter's Square for the weekly midday recitation of the Regina Caeli on Sunday. His advice was inspired by the Good Shepherd Sunday marked on the Fourth Sunday of Easter, when the Church also marks the World Day of Prayer for Vocations. Pope Francis urged the faithful to pray for all of the bishops, including the Bishop of Rome, and all the priests" that they be true pastors in the footsteps of the Good Shepherd. He recalled imagery of the calf bothering the mother from the French St. Caesarius of Arles (470-543), explaining, "When the calf is hungry it goes to its mother, but the cow does not give her milk straight away, she almost keeps it for herself. The calf knocks with its nose at the cow's udder to obtain milk. So you have to knock on your pastors' door to obtain the milk of grace, of doctrine, of guidance".

The Pope then pointed out that "in imitation of Jesus, every pastor ' will sometimes go before his people, pointing the way and keeping their hope vibrant. At other times, he will simply be in their midst with his unassuming and merciful presence. At yet other times, he will have to walk after them, helping those who lag behind." The Pope wished that all pastors be like this.

Pope Francis also recalled his message for the World Day of Prayer for Vocations, saying "every vocation always requires an exodus from oneself in order to centre one's life on Christ and on his Gospel." For this reason, the Pope said, the call to follow Jesus is both exciting and challenging. Because you realize you must always enter into friendship with God in order to live in Him and for Him. He urged for prayers that all the baptized, families, parishes and movements assume the responsibility for promoting vocations with awareness and conviction, at a time when the voice of the Lord risks being suffocated by many other voices. Concluding the Pope also had a special greeting and prayer for all mothers to mark Mother's Day in Italy and the US, by inviting everyone to recite a Hail Mary together.