Pope ordains 13 new priests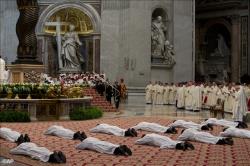 Pope Francis on May 11 observed Good Shepherd Sunday and World Day of Prayer for Vocations, concelebrating a Mass during which he ordained 13 deacons to the priesthood. The new priests comprise 6 Italians, 4 Latin Americans, and one each from Pakistan, South Korea and Vietnam.

During his homily, the Pope urged the new priests to be witnesses to the mercy of Jesus: "Through the Sacrament of Reconciliation," the Pope said, "forgive sins in the name of Christ and the Church." "And here I want to stop and ask for the love of Jesus Christ, never tire of being merciful!" the Pope urged. "Please! Have the same capacity for forgiveness as the Lord, who did not come to condemn but to forgive! Have mercy, a lot of mercy! And if you are concerned about forgiving too much, think of that holy priest of whom I have spoken before, who went before the Tabernacle, pleading: "Lord, forgive me if I have forgiven too much. But You set me a bad example". The Pope said it saddens him very much to find people who no longer go to confession because they were 'caned' and 'screamed at', who felt that the Church had closed the door on them. "Please do not do this: mercy, mercy!" the Pope pleaded. "The good shepherd enters by the door and the door of mercy are the wounds of the Lord, if you do not enter into your ministry through the wounds of the Lord, you will not be good shepherds," the Pope exhorted.