Pope Francis' message to Coptic Pope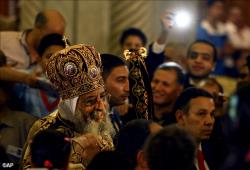 May 10, 14: Pope Francis has appreciated "a real communion' between the Catholic and Orthodox Churches while recognizing that it is neither full nor perfect and hence urged for overcoming the remaining obstacles for full communion. This he expressed in his letter addressed to the Coptic Pope Tawadros II of Egypt, on the occasion of the first anniversary of their fraternal meeting last year 10th May. He said their encounter has strengthened the spiritual bonds between their two Churches that began with the historic
"Conscious that what unites us is far greater than what separates us, we already experience a real communion, while recognizing that it is neither full nor perfect" the pope noted. "With trust in the Lord's grace, we continue to strive through dialogue in charity and truth to overcome the remaining obstacles to full communion" he wrote.
Pope Francis assured his unceasing prayer for all Christians in Egypt and throughout the Middle East, imploring that the Lord inspire in those in authority a firm resolve to seek just and peaceful solutions respectful of the rights of all.