Pope Francis: The Church - the people who follow Jesus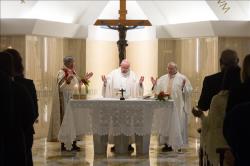 May 6, 2014: Pope Francis on Tuesday stressed the need of bearing witness to Christ and said, " Christian who does not give witness to the faith becomes sterile". The Church is "not a university of religion", but the people who follow Jesus. Only in this way, he added , is the Church both "fruitful and a mother". This was the central message of Pope Francis' homily at the morning Mass at Casa Santa Marta in his residence at the Vatican. The Pope drew inspiration from the first reading of the day on the martyrdom of St. Stephen, narrated in the Acts of the Apostles.
In his homily the Pope brought about the similarity of martyrdom of St. Stephen that with Jesus his master. He said both encountered the jealousy of the leaders who harbored hatred in their hearts and were trying to eliminate them. This hatred - said Pope Francis - was sown in their hearts by the devil", and this hatred of the devil against Christ is now directed against Stephen.
The"struggle between God and the devil" is clearly seen in Stephen's martyrdom. "Witness, be it in everyday life, in difficulties, and even in persecution and death, always bears fruit the pope said. Talking about St. Stephen and the Christian fleeing because of violent persecution – the pope asked: How is my witness? Am I a Christian who witnesses to Jesus or am I a simple numerary in this sect ? Am I fruitful because I bear witness, or sterile because unable to let the Holy Spirit lead me forward in my Christian vocation?" .