Armenian Apostolic Church head to meet Pope Francis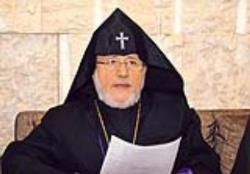 May 6, 2014: The spiritual head of the Armenian Apostolic Church will be in Rome May 7- 9, during which he is scheduled to meet Pope Francis. Karekin II, whose official title is the Supreme Patriarch and Catholicos of All Armenians, will meet and pray together with the Pope on Thursday. He is scheduled to visit the Vatican's Pontifical Council for Promoting Christian Unity and other curial offices. He will visit St. Peter's Basilica, where he will pray at the tomb of St. Peter and the statue of St. Gregory the Illuminator, the apostle and patron of Armenia.
With members numbering some 6 million, the Armenian Apostolic Church is part of Oriental Orthodoxy, not in communion with the Catholic Church of Rome. Based in Etchmiadzin, Armenia, the Church regards the Apostles Bartholomew and Thaddeus as its founders.
Relations between the Catholic Church and the Armenian Apostolic Church began to warm after the Second Vatican Council and today two representatives of the Church are members of the Joint International Commission for Theological Dialogue Between the Catholic Church and the Orthodox Church, established by the Vatican in 1979. Patriarch Karekin II visited Rome during the Jubilee year 2000, and in 2001 St. John Paul II visited the Armenian Apostolic Church in Etchmiadzin, Armenia. Karekin II was in Rome again in 2005 for the funeral of St. John Paul II. Later he visited Rome in 2008 and 2012 to meet Pope Benedict XVI. His last visit to Rome was at the inauguration of the pontificate of Pope Francis in March last year.