Pope Francis to visit Rome's Gemelli hospital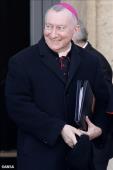 May 3, 2014: The Holy See's Secretary of State, Cardinal Pietro Parolin, has confirmed Pope Francis will visit Rome's Agostino Gemelli Teaching Hospital, although no dates were given. The hospital serves as the medical school for the Milan-based Catholic University of the Sacred Heart. It also serves as the hospital for the Holy Father.
Writing a marking 90th National Day of the Catholic University, Cardinal Parolin said the Holy Father wished to mark the hospital's 50th anniversary by visiting its patients and staff.
On behalf of Pope Francis, the Cardinal also conveyed his deepest appreciation and heartfelt encouragement to the entire university, so it could continue to be a "living witness" to the Church's commitment to the younger generation. He also noted the University's efforts to understand and accompany young adults in an era where Catholic educational institutions are living through a "rapid and significant" cultural change, including a growing multicultural society.