Archbishop Francis Chullikat at UN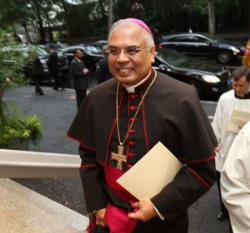 May 3, 2014: The Apostolic Nuncio, Permanent Observer of the Holy See to the UN, Archbishop Francis Chullikat has told the United Nations that "Nuclear weapons … should have no place in a world community determined to achieve mutual security on a global scale," calling them "the antithesis of humankind's yearning for peace."
Archbishop was speaking ahead of the review cycle of the Non-Proliferation Treaty (NPT) scheduled for 2015. He reminded the committee the NPT treaty calls for working towards a nuclear weapons-free world.
"If one of the treaty's central obligations – negotiations toward the elimination of nuclear weapons – continues to be implemented so timidly and at such an unacceptably slow pace, confidence in the viability of the non-proliferation regime could gradually weaken and the risk of further proliferation would increase," said Archbishop Chullikat.
The Archbishop also called for a zone in the Middle East free of nuclear weapons and all other weapons of mass destruction.
"Here, not only is the credibility of the NPT at risk, but the peace process and the security of the region do require the assurance of all parties that the Middle East will not become the site of a nuclear arms race," he said.