Intimidation and abuse of Christians in Orissa: homes destroyed, faithful thrown out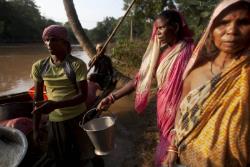 May 1, 2014: The Christians who survived the violence in 2008 cannot find peace and are still today victims of abuse and intimidation, said by Fr. Ajay Kumar Singh, a Catholic priest in Orissa, a human rights activist and winner of an award for his work among the victims of the pogroms which occurred in 2008 in the district of Kandhamal in Orissa. According to what Fr. Singh said, in past days the police arrested and then released three people accused of having destroyed the home of a Christian family who survived the massacres of 2008.
Praful Digal, a Catholic of the village of Budruka, had rebuilt his home thanks to the aid received by the government as funds for the reconstruction. The radical Hindu groups did not tolerate it: they attacked the new house, razed it to the ground, as confirmed by Fr. Pradosh Kumar Nayak, Rector of the Minor Seminary of St. Paul in Balliguda near the village of Budruka.
As noted by Fr. Nayak, this is the third house that the Digal family had built over the past six years, but Hindu radicals demolished all of them. "The last demolition shows that these groups are strong and determined to keep Christians out of the country", notes Fr. Nayak, adding: "Christians continue to lead a terrible life in Kandhamal district", where abuse and discrimination do not cease. Ajay Kumar Singh said to Fides: "The State has failed to protect and guarantee the basic rights to Christian citizens in Orissa".