For Catholic activist, Myanmar's constitution, the Rohingya and Kachin are still unfinished business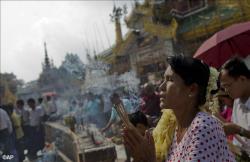 May 1, 2014: "The Burmese government has started peace talks several times, whilst its armed forces launched attacks against Kachin. Talks based on trust and even the military, and its generals, must be part of this process," said Benedict Rogers, East Asia chief for Christian Solidarity Worldwide (CSW) lookng at the situation in the Asian country a year before it holds elections.
A journalist, Burma expert and human rights activist, spoke to AsiaNews about Myanmar's long road towards reforms, which began when President Thein Sein took office at the helm of a partially civilian-led administration after decades of military rule.
The country faces many unresolved issues, ranging from the Rohingyas tragedy in the western state of Rakhine and the clashes with ethnic Kachin in the north on the border with China, to call for further reform of the Constitution and greater democratisation.
Thus, the country and its people continue to face a number of challenges and unresolved issues. The existence of political prisoners and arbitrary arrests, sectarian intolerance and violence, as well as land grabs are among those that are most likely to fuel hatred.
At the same time, for Rogers, the chances for constitutional reform to enable opposition leader Aung San Suu Kyi to run for president in 2015 seem very slim.
Nonetheless, "I hope that with sustained international pressure, the sceptics could be proven wrong," the activist said. "Certainly if 2015 elections are to have any legitimacy, the constitution must be reformed."