Ad Limina visit of the Bishops of Sri Lanka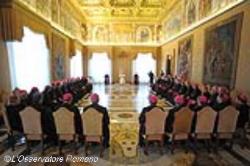 May 1, 2014: The bishops of Sri Lanka are here in Rome for the Ad Limina visit that heads of dioceses make every 5 years or so to report on the state of their jurisdiction which is set for Tuesday and Wednesday. Catholics represent about 7% of the Sri Lankan population and are the largest Christian community , especially among the Tamils.
The bishops of Sri Lanka have strongly urged their fellow citizens to put pressure on their political leaders and the leaders of the separatist Tamil guerrillas so that they find a political solution to the armed conflict. While noting some positive signs of development in the country, we feel the need to promote unity and reconciliation among the people of our mother earth, the bishops say. This can only be done respecting each other and safeguarding the dignity of others This , they add, " is largely dependent on equality and justice granted to all citizens . They wished all people lived the gift of peace , in their private lives and in their beloved country "
The people of Sri Lanka have suffered civil war for more than three decades. The Church has always acted as a bridge between the ethnic group in conflict. Since the catholics comprise of Sinhalese and Tamils, it has managed to maintain a balance and strongly push for reconciliation and peace, a task that continues to date, through its religious personnel and their organizations. It is committed both to heal the traumas of war suffered by the civilian population and to promote the values of reconciliation at all levels.