Church and ILO discuss 'Post 2015' poverty eradication agenda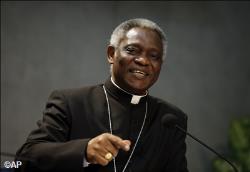 (Vatican Radio) Employment and decent work for all is the best route out of poverty in the world. That's the conviction behind a two day meeting taking place here in Rome under the auspices of the Pontifical Justice and Peace Council.
Bringing together a group of Catholic-inspired NGOs and the UN's International Labour Organisation, the seminar aims to find ways in which the social doctrine of the Church can make a key contribution to the so-called 'Post-2015' agenda on poverty eradication.

Philippa Hitchen spoke to the President of the Justice and Peace Council, Cardinal Peter Turkson who addressed the opening session of the seminar on Tuesday morning….

Listen:




"Next year, the year set for the Millennium Development Goals (MSGs) will be up and, on account of that, there are feverish attempts all over to see what the UN and humanity can do…..so there's already talk about 'Post 2015' objectives and goals…

The objective here is to position this group, collected here with the ILO, to make a decent contribution in the 'Post 2015' discussion….galvanising the Catholic or Christian groups to see how they can make a real difference….

A popular saying is that if you fail to plan, you plan to fail…and this is something that we as a Church should have in mind…..we sometimes just try to intervene and trust that our moral authority will carry us through….but sometimes it's necessary to systematically plan our interventions and objectives….

The character of work has changed….the introduction of automation in work has replaced a lot of people…..there have been cases where people have had to work curtailed hours so that the company will survive….there are a whole lot of challenges with work and employment….we're caught between automation, driven by profits, and the need to provide work for people and we need to strike a balance…"