Pope Francis: video Message to Polish TV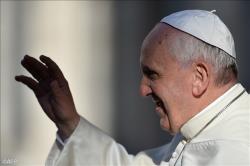 (Vatican Radio) Pope Francis has recorded a video Message for Polish Television ahead of this weekend's canonization of Blessed John Paul II, the first Polish Pope. In his Message, which aired Thursday evening on Polish Televesion and Radio, the Holy Father expressed his happiness at having been called to proclaim the sanctity of his predecessor, and thanked the people and the Church of Poland for the gift of John Paul II. Listen:




"I hope," Pope Francis said, "that the canonization of John Paul II, and also of John XXIII, will give a new energy to the daily and persevering work of the Church in your country."

Pope Francis went on to encourage all the faithful of Poland to live deeply the canonization of Blessed John Paul II and Blessed John XXIII. "Some of you will be in Rome," he noted, adding, "but thanks to mass media, many [more] can take part in this great event." The Holy Father then thanked all the journalists from print, radio and television for their service to the April 27th canonization.

Pope Francis concluded his message by joyfully looking forward to his planned trip to Poland in 2016 for World Youth Day.