The Courtyard of the Gentiles goes to Washington D.C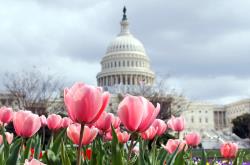 (Vatican Radio) "It is certainly significant that the 'Courtyard of the Gentiles' [the Vatican initiative for dialogue with non-believers] is taking place in the United States for the first time: a nation that is, to a certain extent, the landmark of globalized culture but also one that is able to offer many questions to both believers and non-believers," said Cardinal Gianfranco Ravasi, President of the Pontifical Council for Culture, ahead of his departure for the latest stage of the Courtyard of the Gentiles. Emer McCarthy reports Listen:




The Courtyard is being held in the US capital Washington DC, April 8 to 11, under the theme "Faith, Culture and the Common good". The three day event is being hosted by Georgetown University and aims to explore how people of faith traditions and those with no religious affiliation can work together to enrich civic life in America.

Events include conferences, debates and moments of light entertainment hosted in three different venues: the Kennedy Center, Georgetown University and the Congress Library. The contribution of different religions and cultures to the enrichment of civil and democratic life and the cooperation of legislative power and the mass media towards the common good are just some of the themes that will be discussed.

Speaking to Vatican Radio before he left, Cardinal Ravasi said, "In the U.S., political power has a vested interest in the religious world and has built strong relations with it, but at the same time the U.S. is proud of its secular nature and the identity of the State is quite marked. It will be interesting to observe the balance…between these two aspects."

"Our national dialogue regarding the role of religion in public life and its contributions to the common good is at a critical juncture," said Cardinal Donald Wuerl, archbishop of Washington. "The Courtyard of the Gentiles format offers an opportunity to explore the relationship between religious faith and culture from a fresh perspective. Georgetown's location in the nation's capital and, in particular, the Berkley Center's emphasis on interfaith understanding make the university an appropriate host for next month's event."

Since 2010, the Vatican's Pontifical Council for Culture has held Courtyard of the Gentiles events in more than a dozen cities, including Budapest and Mexico City.