Ferenc pápa Twitter üzenete a szeminaristákért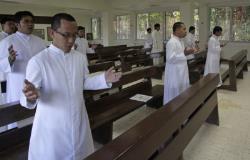 "Imádkozzunk a szeminaristákért, hogy meghallják az Úr hangját és bátran, örömmel kövessék."

Preghiamo per i seminaristi, perché ascoltino la voce del Signore e la seguano con coraggio e con gioia.

Oremus pro seminaristis, ut vocem Domini auscultent Eumque gaudentes et fortes sequantur.

Pidamos por los seminaristas, para que, oyendo la voz del Señor, la sigan con decisión y alegría.

Módlmy się za seminarzystów, aby wsłuchiwali się w głos Pana i szli za Nim z odwagą i radością.

Let us pray for seminarians, that they may listen to the voice of the Lord and follow it with courage and joy.

Beten wir für die Seminaristen. Sie mögen auf die Stimme des Herrn hören und ihm mutig und freudig folgen.

Rezemos pelos seminaristas, para que ouçam a voz do Senhor e a sigam com coragem e alegria.

Prions pour les séminaristes, afin qu'ils écoutent la voix du Seigneur et la suivent avec courage et avec joie.

نصلي من أجل الطلبة الإكليريكيين، كي ينصتوا لصوت الرب ويتبعونه بشجاعة وبفرحة.