Ferenc pápa Twitter üzenete a Megszentelt Élet Világnapján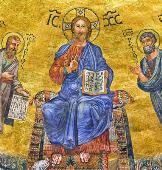 "A Megszentelt Élet Világnapja legyen megfelelő alkalom arra, hogy újra felfedezzük Jézus Krisztus központiságát életünkben."

La Giornata Mondiale della Vita Consacrata sia un'occasione propizia per riscoprire la centralità di Gesù Cristo nella nostra vita

May the World Day of Consecrated Life be a timely occasion to rediscover the centrality of Jesus in our lives.

Que la Journée mondiale de la Vie consacrée soit une occasion propice pour redécouvrir la place centrale de Jésus Christ dans notre vie

Que la Jornada Mundial de la Vida Consagrada sea una ocasión propicia para redescubrir la centralidad de Jesucristo en nuestra vida.

Der Tag des geweihten Lebens ist eine gute Gelegenheit, sich wieder neu bewusst zu werden, dass Jesus Christus die Mitte unseres Lebens ist.

Światowy Dzień Życia Konsekrowanego niech będzie okazją do odkrywania na nowo centralnego miejsca Jezusa Chrystusa w naszym życiu.

Que o Dia Mundial da Vida Consagrada seja uma ocasião propícia para redescobrirmos a centralidade de Jesus Cristo na nossa vida!

Vitae consecratae Mundialis Diei libenter utamur occasione ad maximum reperiendum Iesu Christi nostra in vita momentum.