Second Beirut bombing kills 5, wounds dozens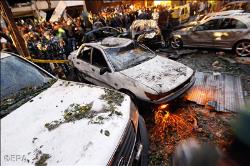 (Vatican Radio) A powerful bomb blast during rush hour in southern Beirut Thursday afternoon killed at least 5 people and wounded 66 others.
Listen to Tracey McClure's report:



Investigators say they believe a suicide bomber detonated a car packed with more than forty kilos of explosives in a busy shopping area close to an office of Hezbollah, the Shia militant group which has been aiding Syrian President Bashar al Assad in his battle against the mostly Sunni opposition rebels.

Yesterday's bombing in the Hezbollah stronghold in Beirut is just the latest in a series of attacks against Shia and Sunni targets and comes less than a week after former finance minister and Hezbollah critic Mohamad Chatah, was killed along with six others by a car bomb in Beirut.

In November, a massive bombing in the Lebanese capital partially destroyed the embassy of Iran – which backs Hezbollah - while explosions in southern Beirut and outside two Sunni Muslim mosques in the northern city of Tripoli just months ago killed scores of people.

Lebanese leaders have condemned Thursday's bombing, saying it was meant to add fuel to the flames of sectarian divisions in the country.