Rome Vicariate holds Prayer Vigil for peace in Syria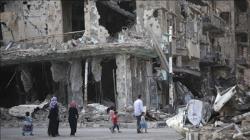 (Vatican Radio) On Wednesday evening at 6pm a prayer vigil for Syrian peace and for the liberation of hostages in Syria is scheduled to take place in the Church of Santa Maria dell'Orto in Rome.

Organized by the Rome Vicariate in collaboration with a host of other organizations, the event will see the participation of Auxiliary Bishop of Rome, Matteo Zuppi, who is also in charge of Missionary Cooperation among the Churches.

As Father Michele Caiafa who works in the Missionary Office of the Vicariate of Rome told Vatican Radio's Linda Bordoni, the prayer vigil was born from the seeds sown by Pope Francis in September when he called for a day of prayer and fasting for peace in Syria…

Listen to the interview…




Father Michele says that following Pope Francis' suggestion the Diocese of Rome decided to organize this Prayer Vigil to ask for peace in the Syrian nation and the liberation of hostages held there.

The Prayer Vigil will take place in the Church of Santa Maria dell'Orto (via Anicia 10) on Wednesday November 27, at 6pm in the presence of Bishop Matteo Zuppi and the Middle Eastern community living in Rome. Father Michele says it's a good opportunity to be together to pray our Father for peace and freedom in Syria.

Regarding the many appeals Pope Francis has made for the Syrian people, Father Michele says "his actions and words proved fundamental to start a dialogue between the international powers and to avoid a war that could have become a world war. His words and his lifestyle have touched the hearts of the parties involved, and also the hearts of all mankind. I remember the silence and the participation in St. Peter's Square in September. We really felt the presence of the Holy Spirit in that occasion".

Father Michele says we must continue this experience and pray the Holy Spirit every day to help us to abandon weapons and start peaceful ways.

Regarding Jesuit Father Paolo Dall'Oglio and other hostages currently being held in Syria, Father Michele says that he can say that the Church is close to them and their families in prayer and in solidarity. "We hope that Father Dall'Oglio will come home as soon as possible. He is a man who worked hard for inter religious dialogue and peace".

The Rome diocese gives its help to Syrian refugees, particularly those in Jordan, with a food programme where one of our priests work.