Pope Francis: only Christ is the master of time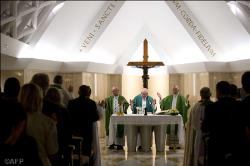 (Vatican Radio) Pope Francis on Tuesday reminded the faithful that man may think he is the master of the moment, but only Christ is the master of time.

Speaking to those present for the morning Mass in Casa Sanctae Marthae, the Pope said prayer and hope are the tools that come to our aid in every moment of our lives.

Listen to Linda Bordoni's report...




In prayer and with hope we are able to understand and accept the passing of time and to prepare for its end. Prayer – Pope Francis explained – along with discernment helps us to decipher single moments of our lives and guides us towards God. Hope – he said - is the long-range beacon that illuminates our path and that final moment.

Reflecting on the Reading of the Day in which Jesus explains what will happen before the end of humanity and tells those who believe in God not to despair, Pope Francis said God has two reccomendations for us.

He said a Christian is a person who knows how to live the moment and who knows how to live in his or her time. The moment – he added - is what we have in hand right now, but this is not time, the moment passes! Perhaps we feel we are the masters of the moment, but to believe that we are masters of time is a deception, because – Francis said – "time is not ours, time belongs to God!

And quoting Jesus, Pope Francis warned us "not to be deceived for many will come in my name". But the Christian – he said – is a person who must pray and have discernment to be able to use the precious time that God gives each of us, and to have hope for the time of God.

So – Pope Francis concluded - the Lord give us the grace to walk with wisdom, this is something we must do with prayer and discernment, and he gives us hope with which to live our lives within his greater design.