Year of Faith Mass: collection for Philippines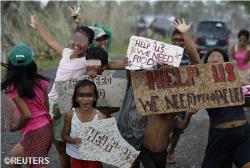 (Vatican Radio) The Vatican has announced that a special collection will be taken up Sunday November 24th at the Mass presided in St. Peter's Square by Pope Francis marking the end of the Year of Faith. The liturgy will begin at 10.30 a.m.
The proceeds from the collection will be offered for the people of the Philippines who are trying to pick up the pieces after the devastating Typhoon Haiyan which ripped through the country November 8th.
The President of the Pontifical Council for the New Evangelization, S.E. Rino Fisichella made the announcement in a press conference Monday and further details were made known to Vatican Radio today.
According to the Council for the New Evangelization, volunteers will pass amongst the pilgrims gathered in St. Peter's Square before the beginning of the liturgy to collect donations. The Philippine collection, in fact, may be the first of its kind. As far as many officials in the Vatican can recall, no collection has been taken up at a papal mass in recent memory.
The Council says Pope Francis himself will decide how the donations will be distributed for the benefit of the Filipino people.
Philippine authorities estimate more than 3,900 people were killed when the typhoon hit and the sea surged ashore wiping away homes and livelihoods. The death toll is expected to rise further as the governor of worst-hit Leyte province has said more than 4,000 people could have been killed on the island of Leyte alone.
The International Labour Organization says some five million workers in the Philippines have had their lives turned upside down.