Pope expresses closeness to typhoon victims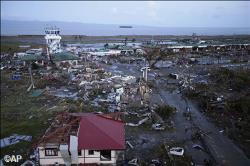 (Vatican Radio) Pope Francis has expressed his closeness to the people of the Philippines and has assured them of his prayers as they suffer the effects of a category 5 "super-typhoon", which struck the country early this morning.

The Pope also issued a tweet, calling for prayers. "I ask all of you to join me in prayer for the victims of Typhoon Haiyan / Yolanda especially those in the beloved islands of the Philippines," he wrote.

Hundreds of thousands of people evacuated their homes. News reports estimate more than 100 dead, though the death toll is expected to rise. The storm churned across the archipelago country and was headed to Vietnam by Saturday evening.

Two years ago, a similar typhoon in the Philippines left 1,200 people dead.