Pope receives president of Panama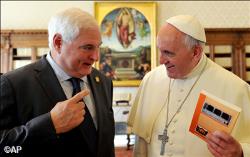 (Vatican Radio) Pope Francis received the president of Panama, Ricardo Alberto Martinelli Berrocal, in a private audience Saturday morning.

Their cordial meeting included an exchange on the current situation in Panama, in particular on the government's social policies and development projects, as well as on the general situation in the region. They then discussed the country's long Christian tradition, as well as the Panama's longstanding bilateral ties, in particular the current relationship between Church and state.

The Pope also thanked the president for the gift of a statue of Mary, represented as Santa María La Antigua, who is the patron of Panama. The statue was placed in the Vatican Gardens.