Pope: Mary as model of faith, charity and union with Christ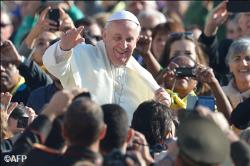 (Vatican Radio) Pope Francis said the Church is like Mary who brings Jesus and is not a shop or a humanitarian agency. Speaking at his Wednesday general audience, the Pope said a Church which does not bring Jesus is a dead Church.

Listen to the following report by Susy Hodges:




At his general audience Pope Francis continued his catechesis on the model of the Church and reflected on how "Mary is a model of faith and charity for the Church." He said "Mary's life was centered on Christ, the incarnation of God's infinite Love."

She teaches us to live a life of faith by her obedience to God's will and by her unfailing devotion to Jesus and his work. As a model of Charity, the Pope continued, "Mary wishes to bring all of us to the great gift that is Jesus with his love, his peace and his joy."

"The Church," he said, "is not a shop, or a humanitarian agency, or an NGO, the Church's mandate is to bring Christ and the gospel" to everyone. The Church brings Jesus and his love and "if the Church were not to bring Jesus it would be a dead Church."

Turning to our responsibilities as Christians, Pope Francis asked what is the nature of the love we bring to others. "Is it the love of Jesus who shares, who pardons and who accompanies us" or is it "a weak love" that "looks for favours in return?" "A love based on self-interest?" Our love towards others must be a free love. As he has done in the past, the Pope warned the faithful against gossip and "speaking ill of our brothers and sisters in our dealings with those in our community" or in our parish.

He concluded by urging those present to maintain "a constant relationship and profound friendship with Jesus" and not just remember him "when we have problems and need his help."



Please find below the full English language text summarizing his catechesis:

Dear Brothers and Sisters:
In our continuing catechesis on the Church, we now look to the Virgin Mary who, as the Second Vatican Council reminds us, is "the model of the Church in the order of faith, charity and perfect union with Christ" (Lumen Gentium, 63). As a daughter of Israel, Mary responded in faith to God's call and became the Mother of his Son. She teaches us to live a life of faith by her obedience to God's will and by her unfailing devotion to Jesus and his work. Mary also models the Church's charity, born of faith, which brings the joy and peace of Christ's presence to others and to our world. Finally, Mary models the Church's union with Christ through her constant prayer and participation in the mysteries of his life, death and resurrection.
As Mother of the Church, may Mary, by her prayers, bring us ever closer to the Lord, open our hearts to share his transforming and redeeming love, and inspire us to put our firm faith in God's word, trusting in his goodness and his gracious plan for us and for our world.

I greet all the English-speaking pilgrims present at today's Audience, including those from England, Ireland, Denmark, Norway, the Netherlands, India, Japan, the Philippines, Thailand, Guam, Canada and the United States. In a particular way I welcome the United Kingdom's All-Party Parliamentary Group on the Holy See, with cordial good wishes for their meetings in these days. Upon all of you, and your families, I invoke God's blessings of joy and peace!