India temple stampede leaves over 100 dead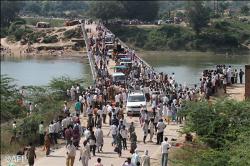 (Vatican Radio) The death toll continues to rise after a stampede near a temple in central India left more than 100 people dead yesterday.

Listen to Carol Andrade's report:




The death toll from yesterday's stampede of pilgrims at a temple in the Central Indian state of Madhya Pradesh is well into the predicted three figures. More than 100 people were also injured, some of them very seriously, and have been admitted to hospitals in and around the town where the tragedy took place.

Chief secretary Anthony J DeSa said that so far 105 bodies had been recovered, some of them from the river flowing beneath the bridge on which the stampede took place. More and more eye-witnesses are coming forward to say that the police suddenly began to drive the crowd back from the temple end of the bridge with batons, triggering off the panic that led to the deadly crush. To escape it, many pilgrims leaped off the bridge to their deaths in the river.

The number of devotees present has not been established. It was Dussehra, the festival that is held in honour of the Goddess Durga, so anywhere between 100,000 and 400,000 pilgrims could have been milling around the area. The bridge itself is narrow, but has to be used to access the temple.

The chief minister has declared immediate payments to the next of kin of the dead and the injured. But this, as always, is being described as too little and too late.