Pope Francis: Migrants' deaths are shameful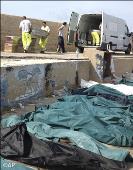 (Vatican Radio) Pope Francis on Thursday reiterated his call to "every one" to work together to prevent tragedies such as the shipwreck off the Italian coast which has cost so many innocent lives.

Speaking to participants at the "Pacem in Terris" Conference which is taking place in the Vatican, Pope Francis spoke of "the numerous victims of the umpteenth tragic shipwreck that happened today near the the Island of Lampedusa".

Listen to Linda Bordoni's report...




Thursday's was one of the deadliest accidents in recent history in the perilous Mediterranean Sea crossing that thousands of African migrants make every year, seeking a new life in the European Union.

And the Pope continued saying the word that comes to mind is "shameful – it is shameful"…

"Let us pray together for those who have lost their lives. Men, women, children, for their families and for all refugees."

"Let us join our efforts so that similar tragedies are not repeated. Only a concerted collaboration of all parties can help prevent them".
The ship carrying African migrants to Europe caught fire and capsized on Thursday off Lampedusa, killing at least 114 people with many more still missing.

Over 150 people were rescued but about the same number are still unaccounted for.