Assisi: all stops out for Papal visit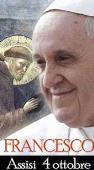 (Vatican Radio) The feast of Saint Francis is one of the most important days of the year in Assisi – so important that preparations begin more than a week in advance, with special prayers and liturgies throughout the week to get ready for the big day.

The major events, however, got underway Thursday with a Solemn Mass at the Basilica of Santa Maria degli Angeli, the church that encloses both the Portiuncula (the spiritual 'home' of the Franciscan family) and the Chapel of the 'Transitus,' the small building where Saint Francis passed from this world to the next. The Mass of the Transitus was celebrated by the Provincial Minister, Father Bruno Ottavi, and was attended by religious and civil leaders, as well as pilgrims from around the world.

At the end of the Mass, some of the city's leaders, dressed in traditional costumes, goes into procession to the little Chapel of the Transitus to offer symbolic gifts: the winding cloth for the Saint's death, wax candles and incense, as well as local sweets Francis had requested on his death bed. The offerings recall the gifts brought by one of the Saint's close female followers, Lady Jacopa dei Settesoli, (Francis referred to her as 'Brother' Jacopa) to the Saint Francis on his death bed.

Later in the day, as the sun sets behind the Umbrian hills, the people gather again at Santa Maria to celebrate First Vespers for the Feast of Saint Francis. Vespers was celebrated by Archbishop Gualtiero Bassetti of Perugia-Città della Pieve.

While Vespers was yet echoing through the Basilica, last minute preparations were going on around Assisi. At the Basilica of Saint Francis, the Papal Master of Ceremonies, Monsignor Guido Marini, was leading a practice for tomorrow's Solemn Mass with the Pope, as workers and technicians continued to make sure all was ready for the big day.

As night falls in Assisi, a prayer vigil, "With lighted lamps" is held in anticipation of Pope Francis' arrival in the morning.

Awaiting Pope Francis in Assisi, I'm Christoper Wells.