Quebec's Bishops criticize proposed ban on wearing religious symbols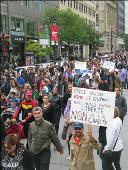 (Vatican Radio) Catholic bishops in the Canadian province of Quebec have criticized a proposed law banning public employees from wearing conspicuous religious symbols. They say the ban contained in the Quebec government's proposed Charter of Values is going too far and could backfire. Susy Hodges spoke to the Archbishop of Montreal, Christian Lépine, to find out more about the bishops' reservations concerning this plan.

Listen to the full interview with Archbishop Lépine:




Archbishop Lépine says Quebec's Catholic bishops are all united in their opposition to this proposed ban on religious symbols calling it "too strong" and going "too far." He says in a democracy people should have "the freedom to be who they are. "We have to learn to relate to each other," he says, and not impose excessive controls on people.

The archbishop also believes the proposed law would have a particularly negative impact on Muslim women who wear veils and on religious sisters who, for example, would not be allowed to wear their habits and veils if they worked with children in a kindergarten. Asked about the reaction from lay Catholics and the public to the government's plan to ban religious symbols, Archbishop Lépine says there is a lot of "confusion" over the true nature of secularism and what it means. He says there is a secularism which is open to the "concept of religious freedom" and welcomes "the diversity of beliefs" and then there is a secularism where people want to remove religion entirely from the public sphere.